Barbi was a force of nature. Buoyed by a glorious billowing skirt and impossibly high heels, she would sail down a hall, around a ballroom and through each day with joy and purpose. Her small frame belied her titanic strength and resolve. Barbi was all about living her best life.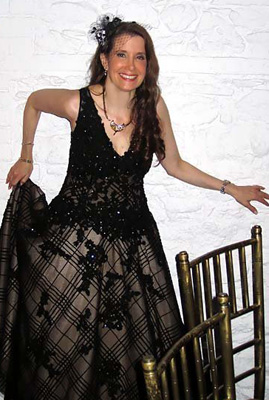 She had legions of friends in NIADA and worked tirelessly on our behalf. Whether preparing for a weekend at home hosting the Dutch Touch or chairing a NIADA conference, Barbi arranged each event with singular energy. And yet, even though she seemed to be in perpetual motion, the most important person in the room remained the one she was speaking to.
Barbi took the responsibility of Show and Sales Chair seriously. Each artist's needs was taken into account as the risers went up and the name cards were set. Oh, and the fun we had! Barbi spoke and wrote in exclamation points. Ever the storyteller, who can forget how she floated around the ballroom at conference enchanting us with a garbled version of Cinderella?
An artist in her own right, Barbi created the loveliest Bleuettes and made sure each left her studio wearing a signature chemise and a perfect smile because, as she joked, "I'm a dentist!" Quilting, fashion, reading, the arts, and of course karate were a few of Barbi's many passions. When asked how she managed to juggle it all she quickly responded that her husband Bruce was her rock. In a way, we all came to know Bruce because she always drew on his strength and his support as she made her way.
We know she cherished home and hearth. With pride, she shared bits of family lore, always including her beloved twin Cheryl and hers. Family came first always. Such a blessing these two.
And so I sign off, as Barbi would so often…..
Good-bye, my sweet friend,
OXOXOXOXO!!!!
~ Juanita Zientara
---
Dear NIADA artists and patrons,
I came home late last night to learn this heartbreaking news. I knew there was little hope for Barbi's condition, but I am still so shocked and saddened. It was nineteen years ago when I finally got up the nerve to bring my strange creatures to a doll show in Westchester New York, totally unsure how they would be received and expecting to go home disappointed.
Suddenly there was Barbi, who burst out laughing when she saw them, promptly bought one of my dolls, and announced "You have got to come to NIADA!", an organization I had never even heard of at the time. And so this little lady, bubbling with enthusiasm for dolls, changed my life forever, and I will never forget her. It is hard to think of the world without her energy in it. I will miss my friend.
~ Donna May Robinson
---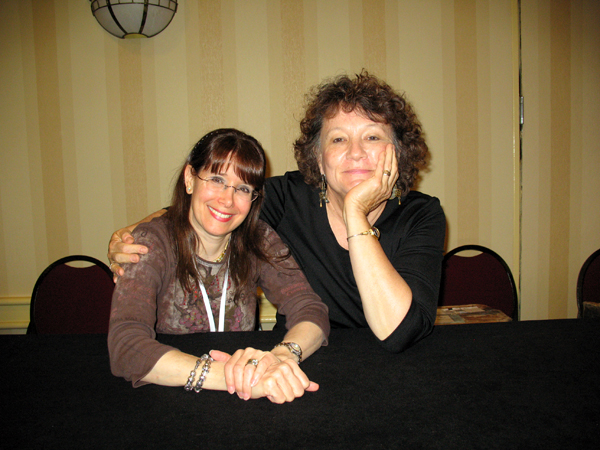 My memories of Barbi start somewhere in the middle of Donna May's story, when I was invited into a hotel room at NIADA to see the incredible, hilarious work of this new artist that Barbi Kantor-Goldenberg had discovered. Barbi was like a tiny, dancing cheerleader, turning that gathering into a celebration, and I fell in love not only with Donna May's dolls that night, but with Barbi herself. Barbi was an enthusiastic advocate for all the NIADA artists, and for the organization itself. She did a crackerjack job of organizing the salesroom each year, from her cheerful e-mails heralding the start of the planning stage, to helping set up the tables, to handing each of us our perfectly crafted, personalized signs. She was always there with her dazzling smile and enthusiastic words of praise, for NIADA members and visiting artists alike, and she pitched in wherever she was needed.
Not only was Barbi an amazing patron, but she was a talented artist in her own right, and the doll I remember most was a winsome child with long blonde hair, perfect teeth and braces, as only a dentist could have made them!
I knew that Barbi was ill, but I thought that if anyone could beat this, it would be Barbi, with her tough, fighting spirit. I wish I'd taken the time to tell her how much I loved her. There is a fabulous group of NIADA members up in heaven who will be very excited to see Barbi, while we back here on earth will miss her so much, and will never forget her.
~ Heather Maciak
---
I was just thinking about Barbi this morning and hoping still that there would be a miracle. Cannot grasp that we have lost someone so devoted to our little group, she was a dynamo when it came to setting up the artist's Show & Sale and was passionate about NIADA. Our beautiful, petite, forever-young black-belt will be sorely missed but never forgotten. R.I.P. dearest Barbi!
~ Chris Chomick and Peter Meder
---
I first met Barbi at a NIADA Convention. It must have been in 2000 or 2001. She was in my sculpting class. She was the tiniest person in the room but she stood out. She took lots of pictures and kept telling everyone the story of her identical twin sister and their identical twin husbands and the relation between their children. She could tell stories without breathing. She looked like a young girl all her life.
Ba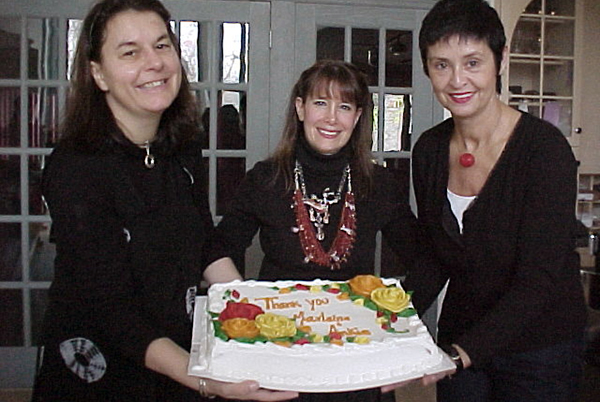 rbi became a very good friend and I will miss her very very much. She was a generous person, a great organizer and hostess, always interested in our personal life and very thoughtful towards everyone. But most of all I will miss her positive attitude, her energy (she could live on three hours sleep per night!), her enthusiasm and her wonderful smile.
NIADA is loosing one of their Stars and will never be the same without her.
~ Marlaine Verhelst
---
I am absolutely stunned. I had no idea Barbi was ill. She was so young and vibrant. I love her so much. She took many classes at my home over the years. I remember how much fun we had when she was taking a class with Bob McKinley. One of many over the years. There is a big hole in my heart today. She will be sorely missed by all who loved her. I loved her stories of being an identical twin who were married to identical twins That made their children double siblings.
Love,
~ Gloria J. "Mimi" Winer
---
I loved Barbi so much! She was always so positive, fun, helpful and such a great supporter of NIADA. A huge loss in my heart. I will miss her so much.
~ Nancy Wiley
---
Barbi's bright light will shine forever in the hearts of those who knew her.
~ Stephanie Blythe
---
I would like to take a moment to remember a dear beloved friend Barbi Kantor-Goldenberg…. Barbi was one of those people that would share her heart through her smile, even from across the room. She helped me set up my dolls for final acceptance into NIADA and was my ever cheerleader. Barbi bought my first doll as a NIADA artist member. That gal defined spunk! She brought so much to this world. Even though she was petite and delicate she had a heart of a warrior. She fought her cancer so very bravely. She may gone but I will forever hold her in my heart…
~ Leslie Molen
---
One of the greatest woman that ever lived. Surrogate mom to me and surrogate grandma to my twin babies. I am so saddened by her loss. She single-handedly inspired 100's of people. Her spirit has left a gaping hole not only in NIADA but in the world. She was such an "energizer bunny"! I was always amazed by her excitement and enthusiasm for life. Barbi and her husband Bruce were one of the few people "in the know" during the early weeks of my pregnancy. I stayed at their house while I taught a workshop (both of them such amazing hosts) while they catered to my terrible morning sickness. It's a very special memory. I love both of them so much.
~ Reina Mia Brill
---
I met Barbi just once, at the 2011 NIADA conference in Denver. She made a huge impression on me for her vitality and joie de vivre. Besides that, Barbi was absolutely charming and adorable. I don't know if it's PC to call her adorable, but that she was. I was so looking forward to seeing her in Stamford, only to learn that her illness prevented her from coming.
Her passing is a loss to the NIADA and general doll making community. My heartfelt condolences go out to her family, both her immediate and her extended doll making families.
~ Peggy J. Frank
---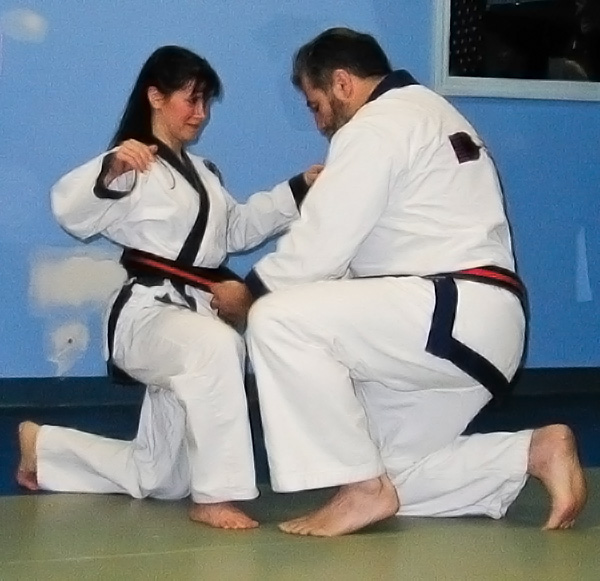 I am so sorry to hear the sad news. I am very shocked and sad. I have taken part in conference 2010, and she was very cheery and kind to me, an unfamiliar artist from Korea. I remember her hair style, smiley face, Korean pronunciation about Taekwondo she had enjoyed and Taekwondo gestures.
~ Moonyoung Jeong, from Korea
---
Yes, how sad that this had to happen. I was lucky to speak with Barbi on the phone twice a week, but the last month she was going to loose the battle. I called her 'my hero', because her attitude was so positive in this battle and still she was so interested in all her friends and family. When I have a 'dark' moment, then I think of Barbi, and I know I have to count my blessings.
Hugs from Spain,
~ Ankie Daanen
---
I feel like so much about what has been said about Barbi hits the nail right on the head which just goes to show you what a consistent, genuine person she was. She was equally creative as an artist herself and able to work with creative personalities too, giving her her time and energies to organizing and setting up conference Gallery for years and offering herself as Secretary of the NIADA, She was so proud of us, NIADA and her other doll groups, her family and herself, and with that confidence -she was able to step forward as a connector and a sharer.
Barbi had a vitality that built the excitement and importance of moments in her company. She had a curiosity, interest that was positive, fun and deep. Barbi was RARE!
~ Mary Ellen Frank
---
I am so sorry to hear this news. Thank you for letting us know.
~ Cindee Moyer
---
Too hard to believe that her brightness and energy has passed on, out of our sight, to the next chapter of eternity. She really brought the sun into every place she was. Barbi had the ability to make you feel comfortable and valued and a part of things. I can only imagine how many, many lives she touched; how the effects of her personality rippled through the art world, her patients, her caregivers, her friends and her beloved family. Barbi, thank you for your example!
~ Kat Bunker
---
A very sad day for us all… such a sweet and loving individual …a true giver of smiles and hugs…she will be so missed but never ever forgotten… Barbi's love of Art and Dolls brought her to our family, she became a cherished friend to all… Her Gracious Gift of kindness will forever be with us….
Love You Barbi…
~ Jodi and Richard
---
I'm so, so sorry to hear this news. Barbi was such a positive spirit. She dearly loved NIADA and our members. It's a terrible loss, and my heart is breaking.
~ Laurel Breitkopf
"Tears are are our holy water. They heal us as they flow." after Rita Schiano, Sweet Bitter Love, 1997
---
As deeply as your leave-taking from this world is felt right now bright beautiful Barbi, your shining Spirit continues to bless, empower, inspire and keep the message of living life wholly and with Joy alive. Keep on keeping on, sweet angel. We're with you, and you're with us.
~ Catherine Valentine
---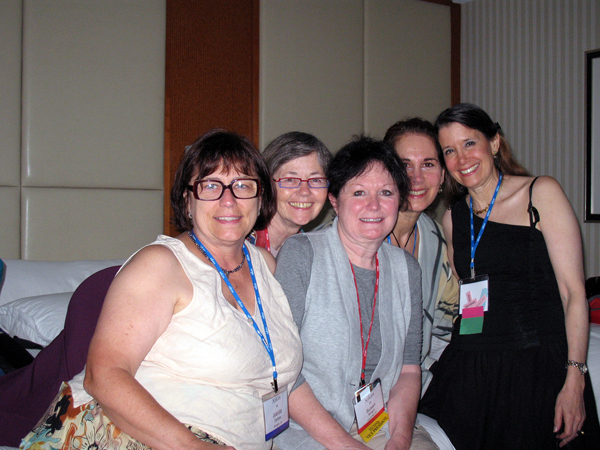 I remember critiquing Barbi's first doll that she brought to NIADA – a whimsical little girl missing a front tooth, pulled out by the apple in her hand. It was later than I found out she was a dentist and her subject made all the more sense.
Barbi was a dynamo for sure and added much to NIADA through her untiring work and bubbly personality.
Although I didn't know her as well as I might have liked, I can't remember a conversation, either in person or on the phone, where I didn't wind up laughing. Her funny stories about martial arts experiences and her unusual family composition ("Uncle Daddy" and "Aunt Mommy" when their young children were confused about which twin was which stick in my mind) were legion and hilarious.
Undoubtedly Barbi lived more in her too-short life than most people do in much longer ones. She had still much to give to the world and it's very sad that she didn't have more time to give it.
~ Nancy Walters
---
My heart is just broken. I feel so blessed that she was my friend. I will miss her infectious smile and incredible spirit!!
~ Madeline Beaudry
---
It breaks my heart to know that we have lost our Barbi. Selfishly I wanted to keep her here forever but I know that her tough struggle is over and she is at rest. How do you express the impact Barbi had on you? She had such a sweet spirit about her, how could you not be drawn to her. Her infectious laugh, kindness, encouragement to others, her tireless energy and dedication to NIADA reflected her beauty. Above all else she loved her family and just beamed when she talked about them.
I had the great fortune to be her 'roomie' for three years at the NIADA conferences. As someone else had also said, the time we spent enjoying the conference stretched into the wee hours of the morning, talking, laughing and sharing until one of us fell asleep. I don't know if Barbi ever knew what a impact and influence she had on my life in those wee hours but it is something I will always remember and I will carry her in my heart forever. Take care, 'roomie' I love you!!
~ Joy Calhoon
---
As a relative newbie to NIADA, I did not know Barbi. But I just want to say that all of your beautiful remembrances of her have really brought her to life. Reading through them reminded me of the process of making a doll: I began with a vague sense of her, and each additional tribute added more details. At this point, I feel like you have rendered a beautiful portrait of a beautiful person.
~ Lexi Langley
---
How sadden I am to hear of my friend Barbi's passing. I met Barbi a few years ago when I contacted her to be part of her doll making classes. She quickly became one of my favorite people. So generous with her time and knowledge. She had such positive energy. When I spoke with her in the hospital she was always so upbeat and interested in what you were doing. A true warrior spirit! May she be at peace now.
~ Marguerite Noschese
---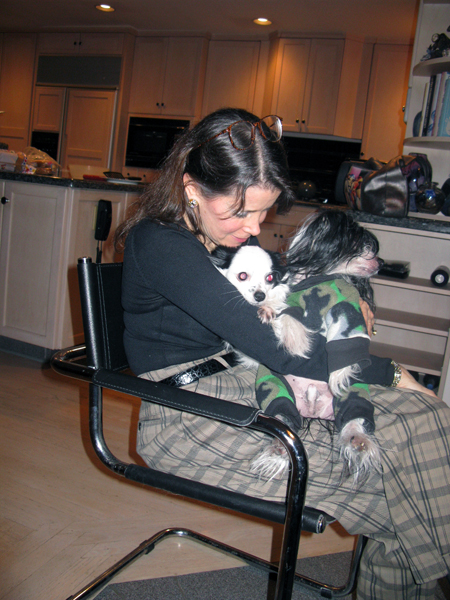 I was lucky enough to be roommates with Barbie some years back when I signed up late and was desperate to share expenses. She was the conference chair that year I think so our room always had special treats like chocolate covered strawberries waiting on her pillow. I remember how we laughed in the mirror putting on makeup and I marveled at the huge suitcases she had brought filled with all sorts of clothes to wear. We stayed up many nights very late talking and I usually fell asleep while she kept up the conversation until she noticed that I was asleep under my pillow. We covered every subject from the Holocaust to eye lifts in those few short days. I really liked her and found her to have a super human energy level plus a very generous heart. I was attracted to her femininity, powerful life force and her ability to nurture those around her. She was one cool lady. I just cannot believe that she is gone. I will never forget her.
~ Lesley Keeble
---
I met Barbi only once at the Denver NIADA conference while I was there as a visiting artist. As I Looked rather lost in one of the hallways she literally looped her arm through mine and walked me to where I needed to be, patting me on my arm and asking me questions along the way. I'm glad that I got the chance to sit next to her one evening while eating dinner outside at the hotel and got the chance to hear her twin stories.
There were multiple times during that week that I was on the receiving end of Barbi's kindness. I was so affected by this petite dynamo of a lady, her thoughtfulness, warmth and beauty inside and out. God be with her husband and family now and through these shared stories, let them know just how Barbi touched the hearts of countless people. She surely touched mine.
~Vickie Arentz
Memorial for Barbi Kantor-Goldenberg www.facebook.com/barbi.kantorgoldenberg