NIADA History
Over 50 years of Art Doll design
"Collections of mass-produced dolls, originally made for children to play with, are everywhere. Far rarer and generally unknown to the public are the original dolls handmade by artists with the same creative approach which is used in painting and sculpture. Their dolls, many of which express American culture, are not intended for play."
Helen Bullard, 1983
The National Institute of American Doll Artists was officially founded in May 1963, at the Watts Barr Resort near Ozone, Tennessee by Helen Bullard, who gathered with her co-founders, Gertrude Florian, Magge Head and Fawn Zeller. These artists, working primarily in isolation had come to know each other through the annual conventions of the United Federation of Doll Clubs (UFDC), a national doll collectors organization, which they had been attending since the early 1950s.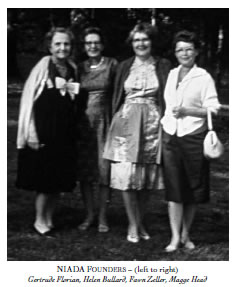 Fascinated by the work of the artists she was meeting, Helen had been writing their stories and publishing them in The Toy Trader, a small but widely read trade magazine edited by Elizabeth Andrews Fisher. The first monograph Helen completed and published was on Dorothy Heizer. It was followed by others on Fawn Zeller, Ruth Ellery Thorpe, Avis Lee, Dewees Cochran, Gwen Flather and Martha Thompson. Five of these artists came to the UFDC Convention in Buffalo in 1962 and Helen rented a nearby room in which their work was exhibited with great success.
In September of that year Helen and Dewees Cochran corresponded about organizing a formal group of creative dollmakers. The May 1963 meeting was set up at which Helen, Gertrude Florian, Magge Head and Fawn Zeller officially organized themselves into the National Institute of American Doll Artists. They invited Dewees Cochran, Dorothy Heizer, Ellery Thorpe, Martha Thompson, Halle Blakeley, Lewis Sorensen and Muriel Buryere to join them as charter members. The group's aim was to work together toward a common goal: the recognition of original handmade dolls as fine art. The first NIADA exhibit was held on August 13, 1963, at the Los Angeles UFDC Convention. The work of the eleven charter members, plus that of newly elected member Tamara Steinheil, was displayed.
The original group of founding artists had put in place by-laws, procedures and standards for the acceptance of new members. Over the 1960s and early 1970s NIADA grew and further organized itself. Early artists who served as presidents, such as Astry Campbell, Wee Paulson and Magge Head incorporated the organization, established a Standards Committee and, as the group grew too large to continue meeting at the annual UFDC Convention, set up the group's own annual meetings. Like contemporary NIADA artists, these pioneering dollmakers were also teachers, sharing their knowledge with other artists.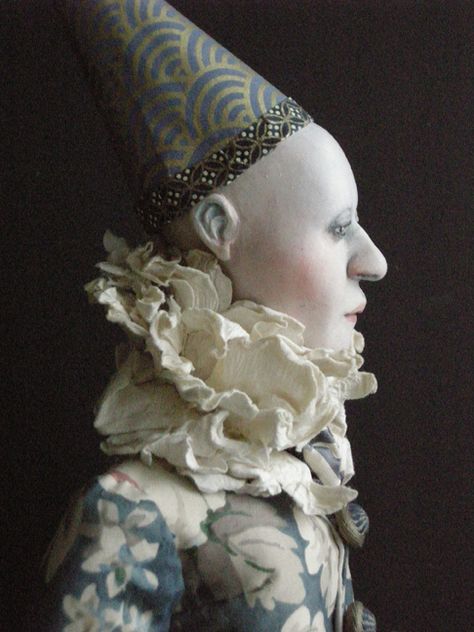 NIADA Today
The work of early NIADA artists reflects their era in terms of medium and subject. Historical figures, children and portraits were a predominant theme. Charter members Halle Blakeley, Muriel Bruyere, Gertrude Florian, Magge Head, Martha Thompson and Fawn Zeller worked in bisque and Parian. Dorothy Heizer, many of whose dolls reside in the Smithsonian Institution in Washington, D.C., is known as a cloth sculptor. Dewees Cochran began working in balsa wood, then moved to composition. Lewis Sorenson made his dolls from wax.
Some contemporary artists still work in traditional mediums and concepts. Others have chosen newer mediums, such as polymer clays, air-dried clays and paperclay. Subject matter ranges across a broad spectrum, from traditional realistic figures to anthropomorphic creatures to somewhat-abstract pieces that merely suggest the human form. What has not changed since NIADA's founding is that every element of a doll created by a NIADA artist is completely made by the artist. Each NIADA doll is authenticated as a painting or a piece of sculpture.
Today dolls by NIADA members are well represented in the print media, on the Internet, in value guides and in exhibitions worldwide. NIADA flourishes as an international organization with artist members from France, England, Germany, Switzerland, The Netherlands, Denmark, Russia, Japan, Australia, New Zealand and Canada. The NIADA Annual Conference is always an exciting event at which member artists and patrons as well as visiting artists and collectors are welcome. At the conference, NIADA Artists share their experience and skill through master classes, program presentations, visiting artist critiques, the NIADA Gallery, the Annual Show and Sale and much more.
In 1997, NIADA initiated its website: www.niada.org. This website is an educational tool presenting a portfolio of NIADA Artist dolls, dollmaking resources and tutorials,  news of annual conferences, a list of publications and other elements of interest to makers and collectors of art dolls. Today Artists and Patrons communicate through an online chatline and facebook group. For two years (1999-2001) NIADA published NIADA ArtForm, a quarterly publication devoted to the art of the doll. In 2009, The NIADA Foundation and The Susan Quinlan Museum published NIADA Art Dolls: Rich Traditions, New Ideas, a 432 page hardcover book showcasing the work of 160 artists who had been awarded membership since the group's founding in 1963.
NIADA members are thrilled to see the work of artists who have exceptional merit. The Standards Committee invites all aspiring artists who meet the established criteria to apply for membership (See Artist membership). The committee evaluates the basic elements of form, movement and anatomy, the construction of the figure, handling of the media, the technique and craftsmanship of the finish and, finally, considers if the artist's work expresses a strong personal aesthetic and vision through this art form. Every applicant should have something new and vital to contribute. If you are interested in joining NIADA as a Patron, Associate or Artist member visit our Join Us page
Helen Bullard's remarkable vision, NIADA, has evolved into a vibrant International organization. Helen Bullard died in 1996, but her legacy moves forward.
NIADA Established 1963
Founder: Helen Bullard
Co-Founders: Gertrude Florian, Magge Kane Head, Fawn Zeller
Charter Members 1963
Halle Blakeley, Muriel Bruyere, Dewees Cochran, Dorothy Heizer, Lewis Sorensen, Martha Thompson, Ellery Thorpe
Presidents
1963-1967
Helen Bullard : USA
1967-1969
Dewees Cochran : USA
1969-1971
Helen Bullard : USA
1971-1973
Astry Campbell : USA
1973-1975
Wee Paulson : USA
1975-1977
Magge Kane Head : USA
1977-1979
Judith Condon : USA
1979-1980
Laura Alleman : USA
1980-1981
Judith Condon : USA
1981-1983
Karen Kraus : USA
1983-1985
Margaret Finch : USA
1985-1987
Mirren Barrie :  USA
1987-1989
Susanna Oroyan : USA
1989-1991
Susanna Oroyan : USA
1991-1993
Helen Kish : USA
1993-1995
Helen Kish : USA
1995-1997
Robert Tonner : USA
1997-1999
Akira Blount : USA
1999-2001
Akira Blount :  USA
2001-2003
Jane Davies : UK
2003-2005
Kathryn Walmsley : USA
2005-2007
Antonette Cely : USA
2007-2009
Shelley Thornton : USA
2009-2011
Donna May Robinson : USA
2011-2013
Donna May Robinson : USA
2013-2015
Tanya Marriott : NZ
2015-2017
Tanya Marriott : NZ
2017-2019
Connie Smith : USA
2019-Present
Cindee Moyer : USA