I met Akira at an Arrowmont class taught by later NIADA member Lenore Davis. We were both driven together by a dictator who was our third roommate and attracted by humor, aesthetics and enjoyment of making things. Akira invited me to her home north of the school when we were finished with classes and I found a wonderfully homey space in natural southern woods, returned to its primitive self -a deer, bird, amphibian and insect sanctuary. There I found a site of many rescue, abandoned animals and people in transition, like me. I was able to spend time with Larry and Akira's working and learning to just be.
Akira mentored me among so many, many others. She changed from honored teacher to dear friend, our connection spreading from crafting and art, to life. A special time was when we drove from her home in Bybee, Tennessee to Helen Bullard's Ozone, Tennessee home (original member of NIADA). Then we drove directly south to the Gulf coast to a bird sanctuary then to the New Orleans NIADA conference, one of the last years that coast line and New Orleans were intact. Akira was almost immediately an active member of NIADA, devoting many years on the Board including four as president, on the Standards Committee and recruiting a number of the current members of the group.
As President, Akira initiated the first website, published newsletters, e-groups and conference demonstrations. Akira's interests went far beyond her work in art. She was keenly interested in ancestry, animals, gardening, handmade and well designed practical items and southern folk art. The entry of their twin grand daughters into their lives the last ten year was the icing on the cake. Akira was so much a part of my whole life, and she shared her beloved family with me in addition to all the rest of her life. I cannot begin to imagine how deeply this loss will affect my life.
~ Mary Ellen Frank
---
This is deeply sad news to hear of Akira's passing. One of the first dollmaking classes I took was with her. She was a great inspiration to me, as well as many, many others. I found her to be kind and gracious and her talent was truly a gift to us all. My heart goes out to Larry and family. She will be missed.
~ Leslie Molen
---
Akira was my true mentor. It was her art that inspired me and her teaching that opened my eyes to my own abilities. She pointed down a path, but you had to walk in your own shoes. I think that is the greatest gift she gave me. I will be forever grateful for her giving spirit and her amazing talent. This is a very sad day.
~ Cindee Moyer
Long time ago I had noticed her dolls in the internet webpage and really have admired her works. I came into NIADA and I always hoped I would meet her. Today this sad news came as a shock. I was sorry that I have not met her and so sorrowful that I have no opportunity to meet her forever. I am sorry I can't find out words translated this aching feeling. Sorry for my broken English.
~ Moonyoung Jeong from Korea
---
Akira was one of my favourite NIADA people. Not only she was a great artist but also a wonderful person. The last time I saw her was in Arrowmont. There were rumors about a bear walking around on the property and I got up at 6 two mornings in a row hoping for an encounter. It probably would have shocked me if it would have happened but anyway….. We don't have bears in the Netherlands. Then I ran into Akira and I said to her: "I am so sorry I missed the bear." She looked at me in her quiet way and she said: "I could ask Larry to bring one from the fridge…."
~ Marlaine Verhelst
---
Shocked and saddened by the news of this terrible loss. Akira was so smart and uniquely talented, I remember discovering her work and being so fascinated by the element of surprise within each piece (the animal masks that hid a character underneath) and the story of Chelsea Clinton taking one of Akira's dolls from a show at the White House.
I will miss her.
~ Nancy Wiley
---
So very, very sorry to hear this. Best thoughts and hopes to her family and friends. She leaves a beautiful legacy. May it ultimately be a solace.
~ Forest Rogers
---
Oh, boy. I cannot imagine Akira is gone! She was such an original spirit! Dear friends, we have to count our blessings! Again it tells us how precious every day is that we are healthy and happy.
Dear Akira, when I turned 50 my husband bought a doll from you for me!!! Next month I turn 60, and already for 10 years I enjoy this doll. And I will enjoy it more special now and think of you ever more when I look at it. Wish Larry and family all the strength they need.
~ Ankie Daanen
---
Such tragic news! Another sad loss to the NIADA family, such a talented artist and amazing work. I wish I could have met her.
~ Tanya Marriott
---
I am surprised to her the news. Very sad… She and her really unique cratures are still alive vividly in me. I send my prayers from Japan.
~ Chieko Hazeki
---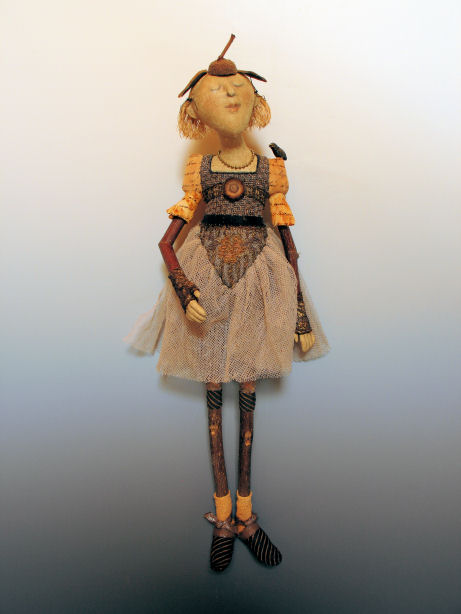 The news of Akira's passing was a shock to me. My memory is still vivid of her trip to Europe, visiting "Doll Art" in Frankfort (Germany) and a few days of stay at Gabriele Bothen-Hack's house, where Akira, Larry and I were invited for a few wonderful days, unforgettable.
~ Elisabeth Flueler-Tomamichel
---
In the 1980's on a visit to The Atlanta Doll & Toy Museum with all its glorious treasures was a doll sitting in a chair with a bird's nest on its head that captivated me. This small creature sparked a 30 year old friendship. Akira and I were kindred spirits who had fled the city and embarked on a on a journey of living in rural areas, enjoying motherhood and doll making.
Over the years, though many miles separated us, Akira, Larry & I shared numerous adventures, letters, telephone calls and emails.
As we both straddled the craft and doll world we would stay with one another during Craft Shows and meet at NIADA Conferences.
We traveled through Europe together. Akira playing nurse when my arm was injured. We kept each other abreast about our children as they grew and developed into wonderful adults. We shared stories of our grandchildren and the Lady Vols, our gardens, an interest in genealogy, her beloved Larry and their herd of papillons. Akira was a gentle spirit who lived her life with strength and dignity. She was a leader in the Southern Highlands Craft Guild and a past president of NIADA.
Akira was a trailblazer in the art doll movement being the only doll maker in The White House Collection of American Crafts. She broke down barriers for other doll artists and blessed our lives with her generosity and creativity. She will be missed.
~ Stephanie Blythe
---
Norma and I remember her first presentation and sale at convention. Her work was was so unique and creative. She sold everything, Norma bought one. We miss all of you and will certainly miss Akira.
~ Ken and Norma von Essen
---
I don't remember Where I met Akira the first time many years ago. Larry will know where she showed her very fascinating cloth dolls with posable animal faces. I fell in love with an elephant and I still cherish it as much as in the first second I saw it at her booth. I can't believe Akira is no longer in our doll world, but I will never forget her and will keep her in my heart through her amazing work of Art.
~ Sylvia Natterer
---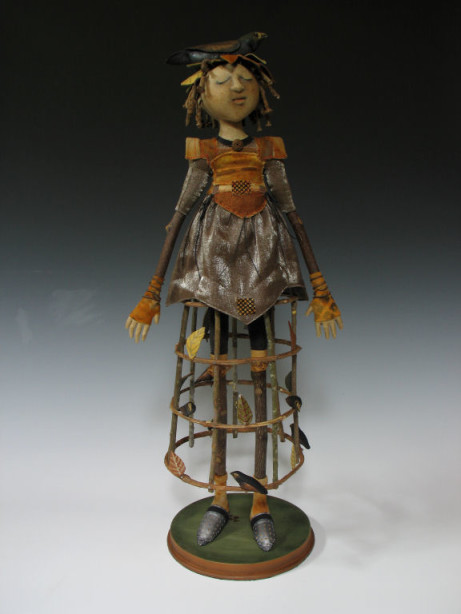 Akira's untimely passing has saddened me deeply and has brought up many memories. When I began making art dolls 20 years ago, Akira was the shining star in the realm of cloth dollmakers. She had developed a well-loved, highly artistic way of working that employed her love of beautiful fabrics and natural objects, and was driven by her refined sense of design as well as her appreciation of folk art forms. I was inspired by her work, as were countless other cloth dollmakers. It opened my eyes to the limitless possibilities of making art from cloth.
When I first came to NIADA, Akira was very supportive of me and my work. I will always be grateful for that, but one specific kindness especially moved me. When I first began making dolls, I took classes from another brilliant NIADA cloth doll artist, Lenore Davis, who sadly died shortly thereafter. A couple years later at NIADA, I was talking about Lenore with Akira, who had been friends with her, and related how passionately I adored Lenore's work. Not long after I returned home, I received a package from Akira containing one of Lenore's tiny monoprint dolls. She said she had a few and wanted me to have one. To me, it was a precious gift.
The type of dolls that Akira made changed over the years, but they always retained her unique, familiar voice. Larry added new materials and skills to the mix, and the vision continued to be refined. More and more the figures expressed a love of nature that was also manifested in the way Akira and Larry chose to live. I was lucky enough once to visit their lovely rural Tennessee home, to walk through the woods with her and her veritable herd of wee dogs, and to have a fine supper just picked from the garden by Akira's own hands.
It's painful to think about how much this special person will be missed by her family and close friends, but on top of that, multitudes will miss her influence and teaching and mourn the loss of a magnificent voice in our field.
~ Shelley Thornton
---
Oh, Akira … what lesson can I take to heart from her loss? How do we manage this empty space … too fresh for Time to have yet filled? As if to cement her image in my mind I find myself scanning through gallery photos of her creations. How many years of mornings and afternoons she and Larry must have spent gathering up Nature's remains … twigs, berries, pods and bark. She was a maestro of sorts, balancing her simple bounty with snippets of cloth, binding each pile into a glorious whole.
When I think of Akira, I see an artist … and a mom. Early on I realized that she and I had chosen an uncommon path to growing our families. No matter where our conversations began, we always circled around to the well being of our beloved daughters. She and Larry viewed her life with its window wide open. Loving and strong those two were.
I pray that love and comfort find Larry and his family each day. They will continue to live out the wonder that was Akira.
~ Love, Juanita Zientara
---
Never got to meet her, but her pieces were a huge part of what NIADA meant to me. So sad for her family, always hoped that someday I would get a chance to tell her how much I loved her work.
~ Pat Lillich
---
There are so many personal memories of Akira I don't know where to begin. She was instrumental in the creation of NIADA's website and establishing ArtForm, our quarterly newsletter, both of which I worked closely with Akira on her vision for promoting this wonderful artist organization.
Her dolls were an inspiration since discovering them in a cloth doll magazine so many years ago, I even got up the nerve to call her to express my admiration. She could not have been more patient and kind in answering my nervous questions about this group of artists called "NIADA" and then a few months later, finally meeting Akira and Larry in person at an ACC show in Tampa, FL. They encouraged us to attend the NIADA Conference in Atlanta the following year as visiting artists, opening our world to this amazing group of like-minded artists, and now dear friends.
So with deepest gratitude we say "Thank you, Akira" for the introduction to NIADA, for the devotion and contributions to our organization, and for the years of creative inspiration. It was an honour to know you.
~ Chris Chomick and Peter Meder
---
It has been years since I've seen Akira, so I am doubly saddened by this news. I knew she was sick, but was hoping that she could rally and be with us again. My thoughts are with all her many friends and family. We seem to be losing too many of our NIADA family.
~ Ginger Roberts
---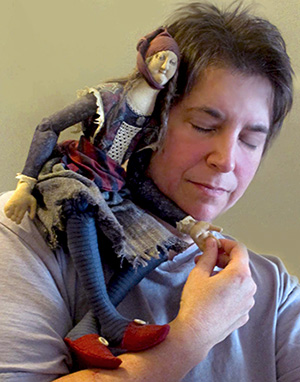 Long before I'd ever heard of NIADA or any other doll club acronym, or even the concept of an 'art doll', let alone a magazine devoted to their makers and collectors, I discovered the work of a very young Akira Blount while vacationing in Gatlinburg, TN in the mid-70's. Already a tireless doter upon the endless construction of tiny busts and hands and feet fashioned out of any kind of clay I could get my hands on, I was frustrated by the traditional 'floppy' cloth doll bodies that I had access to from my Mom's 'antiquing' obsessions, and yearned to make something different.
When I saw the brilliantly designed button-jointed elbows and knees of Blount's seemingly simple and yet astonishingly elegant cloth dolls with their embroidered faces and elongated bodies, my bones chimed: I HAD TO HAVE one of these magical figures. I was probably 14 or 15 at the time, traveling with my family and with barely half enough allowance money saved up for the $60 (yes, that's only ONE "0" on there) price tag on my favorite one. I begged my parents' for an advance, telling my Mom, "I need to study it. I need to figure it out. It's genius. I HAVE TO DO THIS, Mom. I NEEEEEED it!!" Back then, $30 was a LOT of money to my family: it ultimately meant heading home early that trip, and skipping one last dinner out. But to my everlasting joy, they gave it to me. Little did I know then the half of what I'd got myself into. I'm not really a collector. But I still have that doll. She's come with me into every home I've ever known, and sits perched above me as I write this even now, as timeless and charmingly alive to me as they day I handed Akira Blount herself $60 cash, thinking she must've been the daughter of whomever made these wonderful things; she appeared to be no more than a teenager herself!
Two decades later (1995) I would meet NIADA's newest president just as I went through the final stages of attaining artist membership, and realize who she was, dumbstruck. While I never really figured out HER technique [and would never copy her design even if I could] I am inexpressibly grateful for that chance meeting that would eventually inspire the button joints on my own anthropomorphic figures. Our individual approaches overlap in opposite directions and employ different kinds of tension and friction to effect different characteristics of movement and support, but they are inextricably connected in my creative process and I am proud to say she has been my quiet tutor-by-example in the development of my own work.
I am heartbroken by the sad and shocking news of her passing; Akira's kind and unpretentious brilliance is a unfading beacon to us all. So many of us are forever indebted to her for her art, and her service to this organization we all love. My deepest condolences to Larry and their family.
~ Connie Smith