Elizabeth Brandon's life took a tangent during her thirties, when she veered
from music into art. She started by carving wooden dolls and evolved into
making figures of porcelain. She had no formal art training, so she had no restraints. She just started carving and later, modeling whatever she wanted to. By the time she discovered other dollmakers, her style was established, and she was in position to major on improving her technique and to receive inspiration from many wonderful colleagues.
"I love the human form," Elizabeth says. "To spend my time trying to
understand those forms and reproduce them, is to satisfy my soul."

Elizabeth's words about the dollmaking process…
"I don't think dollmakers spend all day laughing out loud, but I do think
we have more fun at work than many other people at their jobs. Depending
on one's interest, dollmaking opens doors to so many other fields: history,
costuming, technical innovation, and countless more. It's impossible to be
bored as each new piece involves something different, requiring
learning something new. The plans for new works outlast one's lifetime. "
"Working in porcelain—mud in its first form—and watching the
metamorphosis as it matures in the fire makes it easy to relate to the earliest humans doing the same thing. Making pots and other necessaries—perhaps some little sculptures to throw into the fire with the pots—isn't so different from what I am doing now. Those early people could come into my workroom and get right busy."
Dear NIADA artists and patrons,
It is with great sadness I must relay that artist Elizabeth Brandon passed away Sunday, September 30th. Her daughter-in-law Liz contacted me and shared that Elizabeth passed peacefully at home surrounded by family. Her family wanted us to know that NIADA was a big part of Elizabeth's life, and preferred no funeral or ceremony, that she only wanted her art to be left as her legacy. She will be sorely missed.
~ Donna May Robinson
~ Shelley Thornton
We were very sad to hear about Elizabeth's passing and fondly remember her bubbly spirit and wonderful smile. She made us feel special and appreciated by surprising us with a beautiful handmade necklace. A treasured piece of art. Elizabeth was pure joy and will be deeply missed.
~ Chris Chomick and Peter Meder

Elizabeth often said she was not so much a doll collector or appreciator so much herself but really felt inspired to express her talent in this way. She did not start in porcelain but tried wood and was not happy so kept trying different media. When she found her medium, her drive with her porcelain doll work was toward a more realism of conventional bodies and faces and the crafting of complex enough joints so communicative positioning could be attained. This is what Elizabeth wrote to me when Reed, my most constant and dearest friend died, leaving a collection of Southwest Native miniatures for the Museum: "Reed is not completely gone, being so welcome in your mind & there in the Museum. Do you ever wonder where these people we love so much are now? It's always been my philosophy to imagine the best thing I possibly can, then believe it. Nobody can prove it right or wrong, & in the meantime, it makes me happy. So for me, right now Reed is the most engaged, the most inspired, the most useful, full of purpose & completely satisfied he's ever been. I really like an engraving on a bronze plaque in the little, ancient church in Hampton, Virginia. It commemorates the life of a child who died at an extremely early age & it says, "Is all well with the child? All is well." I may have told you all this before, but it is an ever-present thought with me."
Elizabeth gave me a number of things that companion me in the Museum now. So now I substitute Elizabeth for my friend Reed in what she gave me and make it an ever-present thought with me, though I confess a few tears still. 
~ Mary Ellen Frank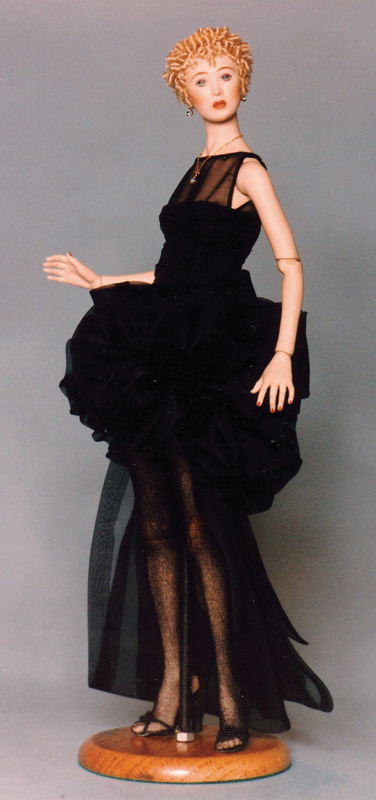 I LOVED Elizabeth. She had such a warm character!!!!! I will keep her in my thoughts!!! 
~ Ankie Daanen
My time with Elizabeth was limited in actual hours but not in the heartfelt moments we had together. She retired a year after I became a NIADA member but the couple years we had together was very connected! She was a darling and I cared about her very much. Her kindness shone though in her warm and gracious smile! Elizabeth even sent me a sweet porcelain rabbit she had created because she knew I loved rabbits! She will be missed.
~ Leslie Molen

So sorry to hear the sad news about Elizabeth Brandon. I have very good memories of Elizabeth from the last time she was with us at the conference. It was in Chicago two years ago if I am not mixing up years. I spent quite some time with her. We felt connected like sisters and we had a lot of giggling going on. She was open for new developments within NIADA. I will miss her. She was a sweetheart, a very warm person.
~ Marlaine Verhelst

Elizabeth was an incomparable artist and friend. More important, she was a gracious lady 
with tinges of wit and spice. Her lovely smile has been missed lately at conference, but it 
will remain undiminished in our memories.
~ Barbara Campbell
We received very sad news yesterday… the Doll World has lost one of it's Greats! The wonderful Elizabeth Brandon. She was one of the loveliest ladies we have ever had the pleasure to meet …. 
And once her charming warm smile and wit make their way into your heart…they will reside there forevermore. Her tremendous talents were a true foundation for many a Doll Maker… she reached levels that many of us could only hope to touch…. Yet she gave freely of her knowledge and encouraged so many.
What I will remember most about Dear Elizabeth was her warm hugs and genuine caring for all … her ability to look you right in the eye with utter honesty as she spoke to you… and of course….her giggly laughter and humor… She was friend to everyone…but Elizabeth had a way of making 'you' feel special. We will miss your greatly 'Partner' …and the comfort you gave under your lovely gracious wing …We Thank our Lucky Stars that you were a part of our lives…we are much better individuals because of it…. We Love You 
~ Jodi and Richard
What sad news! She was a great artist and her work will stay for many generations to come. 
RIP Elizabeth Brandon.
~ Ana Salvador

I have one memory of Elizabeth that stands out in my mind and was perhaps the greatest compliment that I have ever received from another NIADA artist. During the gallery night, at the last Conference that I saw her, she walked up to my piece and said simply, "No one but you Lesley, could have made this piece. It is all your own". Then she looked up from my piece and looked straight into my eyes and smiled at me for a very long, warm moment. It was such a sincere compliment, so unexpected and so heartfelt. I was simply bowled over because I had admired her work and sense of humor for years. In that moment, though our work was so different, I felt so respected by her. She "got" me which I had never realized before that night.
~ Lesley Keeble
I was introduced to Elizabeth's wonderful work by an article in an English magazine many years ago, this article also introduced me to NIADA. When I, at last, came to NIADA Elizabeth critiqued my work. I did not know whether to be thrilled or terrified by my good luck but she was so kind and diplomatic, constantly reassuring me that I did not have to agree with her. Of course I went home determined to act on every word that she said. She became a good friend and I adored her for her kindness and her wicked sense of humour. We swopped dolls and her doll is of comfort to me as I feel she is with me for life.
~ Jane Davies

Elizabeth gave the appearance of polite friendliness, and although she tended not to speak up in a group, she had some very strong opinions that she occasionally expressed if she was with only one or two people. When she felt it was necessary, her spine turned to steel and she did what she felt she had to do, said what she felt she had to say. It was also only in small groups that she expressed her clever, wicked sense of humor.
I came to know her as a result of our mutual friendships with Susanna Oroyan and soon appreciated her greatly. Her knowledge of anatomy was unsurpassed among the doll artists I have known and her insight into people was wise. Another wonderful person gone too soon.
~ Nancy Walters