Mold Making Reviews on two products by Leslie O'Leary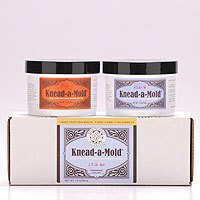 KNEAD-A-MOLD
www.townsendatelier.com–
Speedy service –easy on-line ordering.
Use for me: I have found that my old faithful plaster and pour able resin-paper maché are not quite mass-produced viable. I need to find a product that requires less finish time! The cost will be more on the front end but hopefully less time will be used to finish.
"Knead-a-Mold® is our exclusive, two-part, platinum cured silicone mold making system that is safe and so easy to use.  It works beautifully with resins, low temperature melt metal alloys, paper and air dry clays, polymer clay, wood putty, chocolate and more!  Excellent for replicating vertical, small or hard-to-reach areas.  Non-toxic and food safe, Knead-a-Mold can be baked at up to 300 F constant temperature or 600 F intermittently.  No special equipment, tools or release agents are needed.  Can be used with our exclusive Brush-a-Mold™. "
I am using this product in some cases for my mold for limited re-producing my face forms. With this Knead-a-mold, I have had to find a compatible product to shape my face forms. For the face forms I have changed from the Liquache, an Activa-product that requires a plaster mold to Clay-Shay (see below).
LIKES:
~It is extremely easy to use.
~I have found the molds take very good detail.
~ The molds are sturdy and flexible.
~You can mold just about anything!
DISLIKES:
~Have not priced out the difference between this and the plaster molds I have been using.
~Since I am making a face form that is a hollow shell, I must also make a positive form to fit into my mold.
My heads are about 1⁄2 inch thick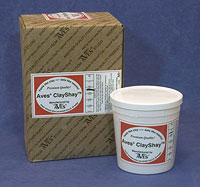 AVES CLAY SHAY
www.avesstudio.com
Great help on the phone finding the right product!
Orders Only: 800-261-2837
Use to me: I am trying this product out for my face forms in lieu of Activa's "Liquache" with plaster molds.
"Clay and maché. Clay and maché. Aves® ClayShay™ is the best of both. It feels like clay and sets like maché. ClayShay™ is for universal applications as a clay or a maché. It is a dry powder ready for use with the addition of water and has about a one hour set time. It offers 0% shrinkage. It has a light brown body, is light weight, non-toxic, strong and very versatile. Aves® ClayShay™ is a new, innovative product!"
This product I am using for some of my face forms with the Knead-a-Mold. It is a powder to water ratio. I did find that the thinner consistency worked better for me 1 water: 1 1⁄2 powder ratio. When I made it thicker I ended up with bubbles or holes in my face form. Which is opposite than plaster!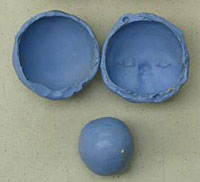 LIKES
~ Very easy to use and easy clean up with water.
~I like the control over how thick you want it to be.
~Dries fairly quickly, but not as quickly as stated in the directions of 1 hour. It would take a couple of hours until I could pop it from the mold and over night to dry thoroughly.
~When thoroughly dry- it is hard and sturdy.
~Fairly easy to correct bubbles with same product.
~Reproduces with almost no touch-up. This could also be attributed to a finer mold.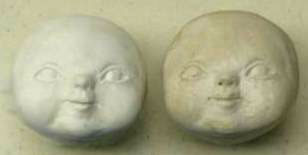 DISLIKES
~Face forms are sand-color and color will show through if using tissue-thin fabrics (i.e. silk) as overlays. But still have found it nice with cottons and other silks.
Note: As you know, to stay in business, every little penny does count! So I do need to price out these different products. Because the ClayShay face forms come out so nicely, I have saved precious time in the finishing of the face forms, this will be considered in the final assessment of the cost.
UPDATE: I now have been using these products for months and love them! My finish time has been greatly reduced and that has in the end saved me money! I have found a solution to the "grey" of the Clay Shay and have used their Aves® Paper Mache. Slightly more delicate but produces a nice finished product.
You may view Leslie's work or write to her on line at www.rootie.com