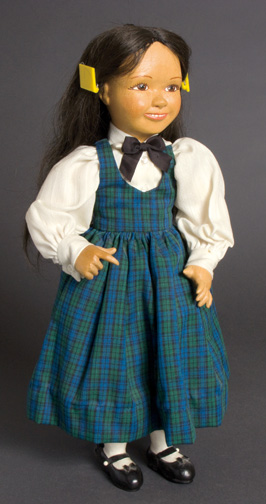 Patti Hale began making dolls in 1974. Her preferred medium was Jelutong wood which comes from the Malaysian rubber tree. She did all of the carving on her dolls with a simple xacto knife. Her dolls varied in height from 6 inches to about 21 inches. She was extremely proud of the fact that she was a member of NIADA. Patti was recognized by its members and doll collectors alike as one of the foremost makers of hand carved wooden dolls in the United States. Patti was a very intelligent, well read person who could discuss anything, from carpentry work to movie stars, from doll making to world politics.
Patti Hale made many wooden dolls during her very long dollmaking career experimenting with several different body styles. She created fun, charming (sometimes comical) wooden characters with her very unique round face style. Her subjects were either derived from her imagination or her 3D interpretation of famous cartoon characters or illustrations: golliwog, Campbell Soup Kid, Three little bears, elves, and etc. She especially enjoyed making a boy and girl / brother and sister pairs which were dressed in a similar way. She created several dolls she called "Peppermint Patty Dolls" which had cloth bodies made from ticking material with peppermint stripes. She made well jointed wooden dolls with carved hair, but also wooden headed dolls with cloth bodies and wigs.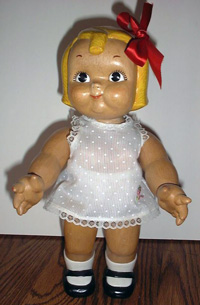 Most of Patti's dolls were one-of-a-kind characters but she also sold a well loved edition of "Hitty" dolls easily identified by her trademark very round, joyful faces. Her tools were very simple: Xacto knives, sand paper and paint. Patti signed or labeled her dolls in many ways. Her name was often carved on the back of a doll's neck. Her "Peppermint Patty Dolls" might have had sew-in labels attached to the bodies and/or clothing. Or she might have carved the initials, "PP", into the wood at the back of the doll's neck. She also labeled under the shoes or included a "Peppermint Patty" business card with the doll. She proudly added 'NIADA' to her labeling system after she was inducted into this prestigious doll sculpting organization.
~ Jean Lotz
Personal Memories
NIADA artist Diana Lence Crosby enjoyed seeing Patti every year at the NIADA Conventions. She remembers how much Patti loved carving her dolls and that she was very particular about the wood she used. She had two poodles that were her companions.
I thought I would share a special photo of my grandmother that I took last Thanksgiving. For me this photo sums up her talent, her humor and her amazing ability to connect with us through her eyes and smile. She made this Cupie years ago and after I trimmed her hair, I looked over my shoulder to see this Cupie sitting on her dresser. I think if my Grandmother could have magically turned herself into a doll, it might have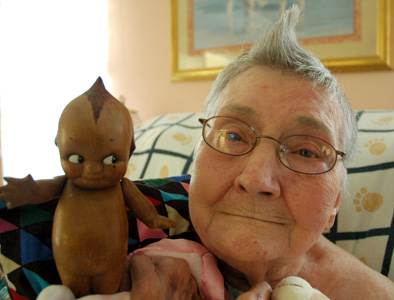 been a Cupie. To capture the moment, I flipped her hair, set the Cupie next to her and snapped this photo. Forever I will treasure that look, the one she made that very moment, the one I have seen a thousand times, the one she made when words were not necessary. She passed quietly and peacefully with her family at her side. She was well cared for by my aunt Janice Sutton who too is as amazing as my Grandmother. I loved her more than imaginable. I hope you enjoy this photo.
~Crystal Wells, California