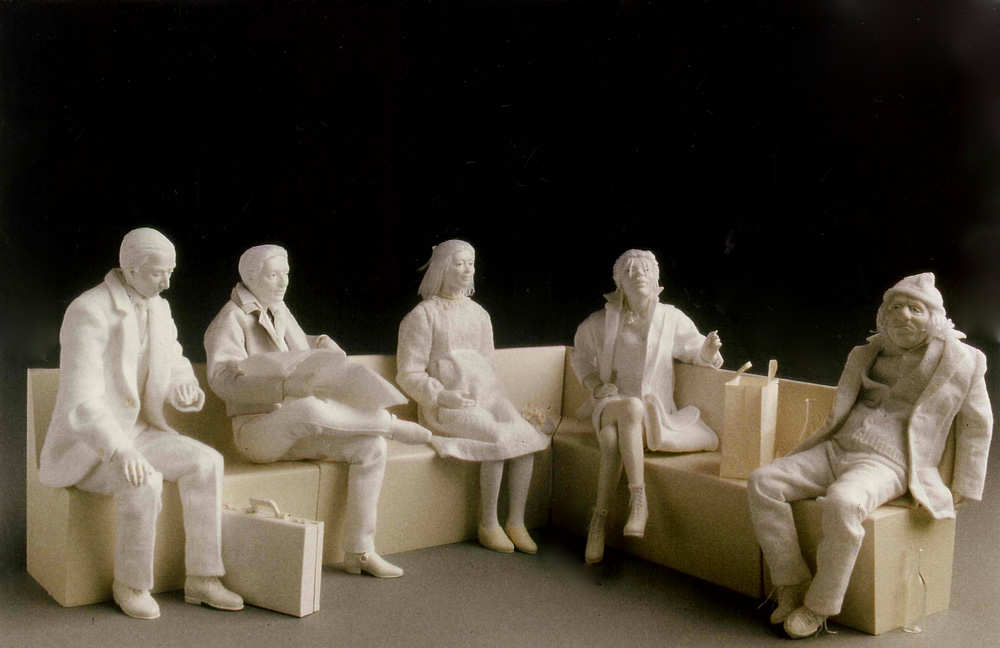 I create a wide variety of types of dolls, both in terms of size (ranging from two inches high to life-size) and in terms of the material I use. Originally I worked in porcelain, but now I create only one-of-a-kind figures made from either Polymer clay or Paperclay. In 1991 I started creating figures that are entirely white, and this has become one trademark of my work. Another important aspect of my dolls is that they have to perform, not just stand there. When I make a doll representing a serious theme, there might be a cheeky spirit dancing behind it, making a mockery of its seriousness.
I studied figurative design, painting and sculpting at the official art school of Switzerland, then called Schule für Gestaltung (today it is Hochschule der Künste), and served an apprenticeship as a dressmaker and fashion designer. I made my first doll in 1977, and was elected to NIADA in 1992. I was a charter member of VeP, the Association of European Doll Artists from 1993 until 2001. Since 1991, I have served as a judge in international doll competitions.
I have won several awards in international competitions. In 2001 I received the Max-Oscar-Arnold Lifetime Award, which is given annually by the town of Neustadt bei Coburg in Germany. My work has been exhibited in Switzerland, Germany, France, Austria, England, Italy, Belgium, Japan, the U.S.A. and Russia, is in several museum collections and has been included in fifteen books.