Ce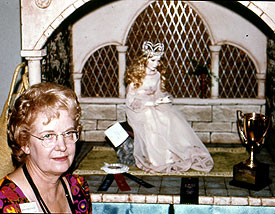 cilia Rothman passed away at her home, in February 2007.  She leaves her family, many friends and fellow artists with wonderful memories of her kindness and her creativity.  Cecilia was known for her exquisite dolls.  Both her beautifully crafted Sojourner Truth, who sits in her rocking chair holding her knitting and her bible, and her John Muir portrait dolls reside in the Smithsonian collection. Born in San Francisco, Cecilia spent most of her life in the area.  As a teenager growing up in this cosmopolitan city, she was already making jointed figures of wood.  Later, she developed an interest in marionettes, both the figures and the plays.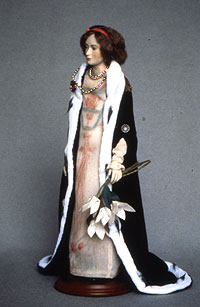 In 1970, Cecilia started working in porcelain and found it her most challenging, but also most rewarding, medium. By 1974 she had made a number of beautiful and unique figures and was encouraged to take them to the International Doll Maker's Association Convention.  There, her work was awarded several ribbons, and the International Gold Cup went to her Princess Lovelia.  Much encouraged, she continued to make exquisite dolls, primarily in porcelain.  NIADA invited Cecilia to join in 1976. Over the years, Cecilia worked with materials such as paper mache and sculpey, making dolls from 2″ to 27″.  But her favorite method was to cast a generic head in porcelain, and then carve and model directly in the porcelain clay until she had exactly the character she had in mind.  All the work on the doll was always Cecilia's.  She did not produce dolls in large editions; each one is truly a thoughtful work of art from her own hand.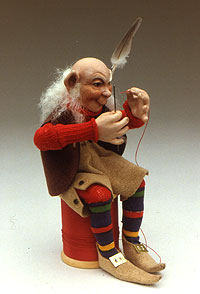 Cecilia's warmth and dignity flowed into the dolls she made.  Her porcelain figures of historical people were carefully researched and you can see their personality and character in their poses, costumes, and the small 'extras' Cecilia often made for them.  Teddy Roosevelt stands in outdoor gear, head up and arms akimbo; an older Sojourner Truth sits with her knitting and her bible; Mephistopheles, in his red and black silk, eyes you thoughtfully while he strokes his beard.
Though best known for her portraits and characters, Cecilia also made smaller dolls, such as her 7″ State Flower series. The California Poppy is a freckled red-head girl with the most delicate hands and elfin smile.  Cecilia was generous with her talents and made several porcelain items for events sponsored by her doll club, the San Francisco Doll Club.  Included are the small Victorian Lady plaques and the Porcelain teddy bear faces for special Halloween bears.
The SFDC honors Cecilia's memory; we will miss her.