2019 Conference and Dollmaking School
July 15th – 17th and July 18th – 21st, 2019
Hotel Phillips, Kansas City, Missouri
The NIADA Conference and Dollmaking School is a wonderful opportunity for artists, collectors and everyone interested in the expanding world of doll art to experience the cutting edge of this dynamic art form. The Conference will offer attendees four days of opportunities to meet new people, to inspire and to be inspired.
NIADA 2019
Conference
Thursday, July 18th to­ Sunday, July 21st
Conference location:
Hotel Phillips, 106 W 12th Street, Kansas City MO 64105
NIADA 2019
Dollmaking School
Monday, July 15th to­ Wednesday, July 17th
Conference location:  Hotel Phillips, 106 W 12th Street, Kansas City, MO 64105, USA

Classes are taught this year by NIADA Artists
Ankie Daanen, Lesley Keeble, Diane Keeler, Catherine Mather, Joe MacPhale, Shelley Thornton, and Marlaine Verhelst.
(Students do not need to attend the conference in order to attend the Doll-making School)

Conference and Critique Registration Form



When you have paid via paypal you will be automatically sent back to this website to fill out the Conference, Critique and Dollmaking School Registration form.
You must register for the conference in order to undertake a Critique.
If you wish to pay by check, please contact the Conference Registrar Lillian Hopkins.
By registering online you agree to our terms and conditions.
For information regarding the student rate visit  Frequently Asked Questions.
What does my Conference fee cover?

Your Conference registration gives you access to:
Gallery Night / Special Banquet / Exciting Programs and Special Exhibits / Keynote Speaker / Visiting Artists Critiques / Artists Mini Masters /  Early entry to NIADA Artist Exhibition and Sale / Souvenir Program
Installment payment registrations must be received on or before May 18, 2019
All other registrations must be received by June 15, 2019.
Conference and Dollmaking School Contact Information



Conference Co-Chairs: Cindee Moyer & Gracie Coleman
Registrar: Lillian Hopkins
Critique Registrar: Leslie O'Leary
Helpers: Christine Shively Benjamin
First-Timers Assistance: Mary Ellen Frank
Dollmaking School Class Registrar: Gayle Griffith
Paypal Liaison: Stephanie Blythe
NIADA Programs
Donna Moore – Toy Designer
Marlaine Verhelst – Twenties Fashion with Historical Reference
Shelley Thornton – Visting Artist 10×12 Presentations
Keynote Speaker – van craig
designer, artist, sculptor and doll aficionado
About van craig
van craig was influenced by the Art Deco period at a very young age and throughout his career. With studies and background in design and the performing arts, both on and off stage, he found himself as a New York Soho Gallery artist, exploring his interpretation of the human form and developing into a creative entrepreneur.  He will share how he took a combination of the above and was able to reinvent them into a viable and interesting career.  He will share his journey, his encouragement, his love for the Art Doll and how he has survived and thrived for more than three decades in the heart of New York City.
van craig is honored to share
his passion
his work
his story
Mini-Master Classes
Saturday Morning Make-and-Takes with NIADA Artists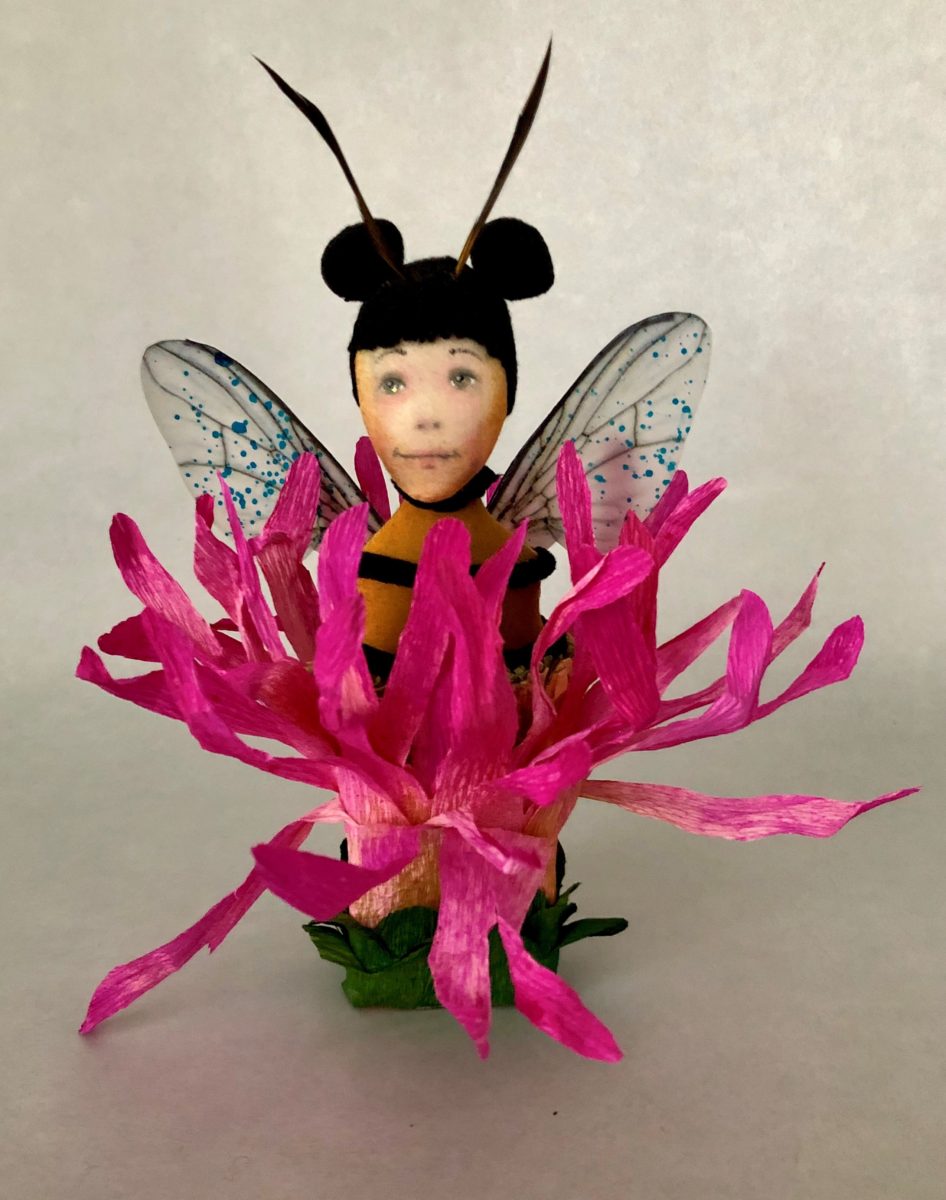 Saturday Morning Mini Master with Leslie O'Leary
'She Bee'
The bee symbolizes community, brightness and personal power!
Leslie is known for her custom dyed fabrics and paper.  In this 3 hour class you will create your own bee 'totem' bust using a unique blend of different mediums, hand-dyed cotton Italian crepe paper and velum.  She will discuss the processes and will bring dyes so you ca add your own custom touches.
All pieces are dyed, pre-sewn and stuffed.  This is a cut and past class for everyone – no sewing or art mastery needed!
Students need to bring paper cutting scissors and Tacky glue.
Saturday Morning Mini Master with Joe MacPhale
'The Art of Sculpting Realistic Shoes.'
Students will learn the process of sculpting shoes out of polymer clay. In addition, they will learn the secrets and techniques Joe has developed and the tools he ha created in order to execute this simple but effective way to complement your sculptures  Students will receive a PDF with all step b step instructions  and the necessary tool to complete the sculptures.
Students need to bring close up glasses, X-acto knife, full apron and comfortable shoes!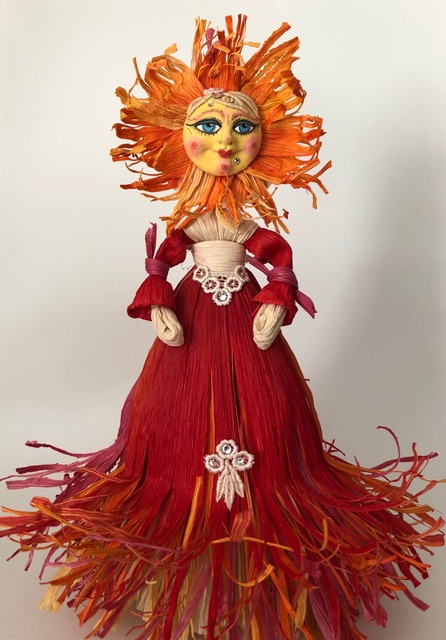 Saturday Morning Mini Master with Lesley Keeble
'Anya, the Sun Goddess'
Cornhusk dolls were beloved playmates for children in many cultures.  Using traditional wet-husk techniques students learn to make a costumed doll form.  Samples of color and costume variations provide inspiration. Student's will personalize a sculpted face provided by Lesley, using chalk pastels, colored pencil, micro pens and Swarovski crystals.
Participants must bring inexpensive, sharp scissors apron and 1/4″ flat tip synthetic paintbrush.
Provided materials include pre-dyed husks, cloth covered clay face, neck dowels, linen cord, upholstery thread, use of instructor's chalk pastels, acrylic paints , micro-pens, colored pencils, odds and ends, husk shredding tool and Swarovksi crystals.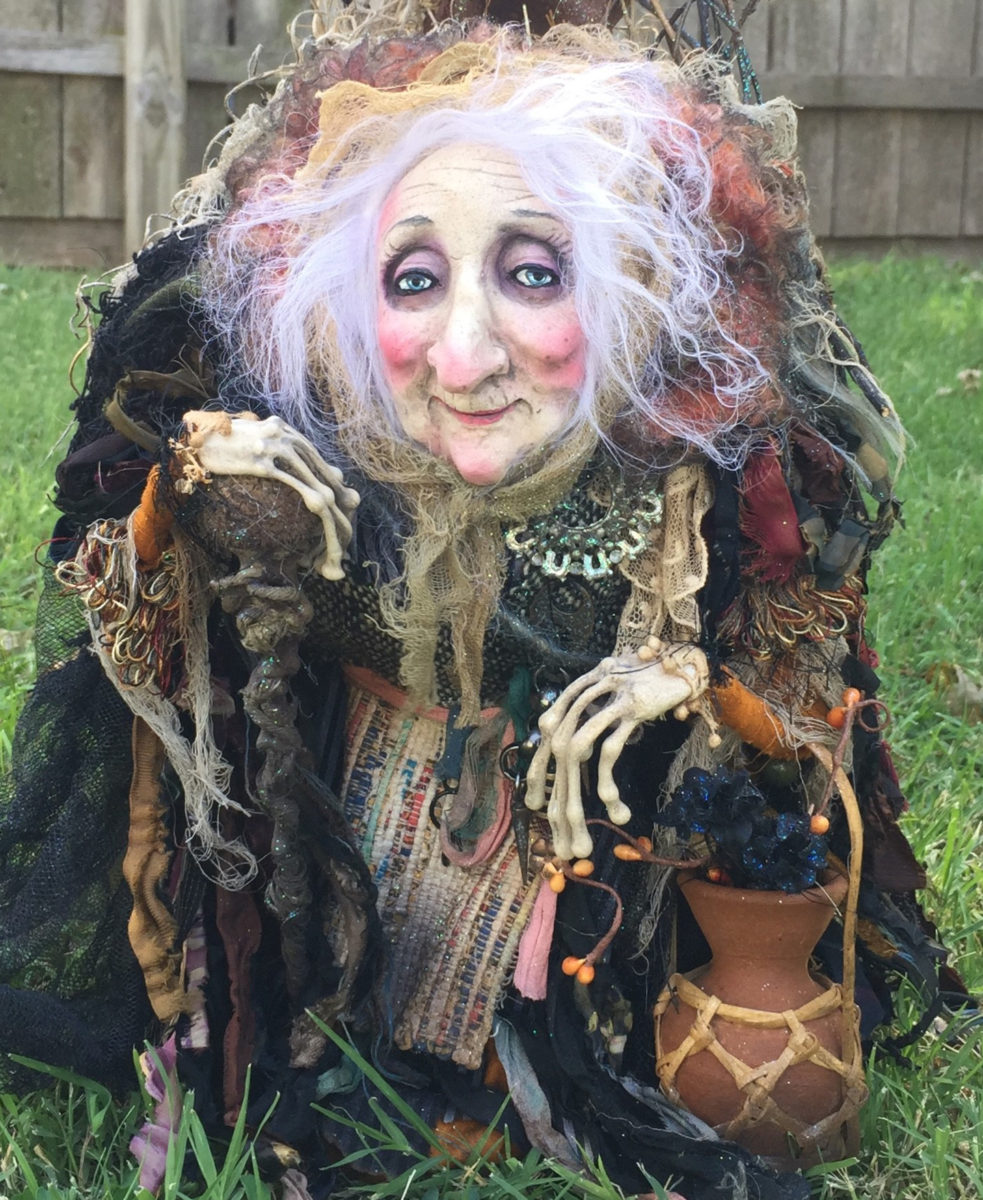 Saturday Morning Mini Master with Dusty Poche'
'Learn How to Make a Hand Armature with Poseable Fingers '
Dusty will show you how to make the hand armature and demonstrate how to add knuckles and dip the armatures. Additionally,
create a unique jewelry piece using images of Dusty's amazing sculpts and jewelry parts provided.  He'll work with you to make your own 'designer' piece.
Kit includes 1 wired hand with knuckles and other hand wires to try at home.
Thursday July 18th
9:00am-12pm :  Artist Meeting (NIADA Artists)
12:00 – 1:00pm :  Artist/Patron luncheon
10:00 – 11am : Early Registration
1:15 – 3:30pm :  Patron Meeting (NIADA Patrons)
1:00 – 4:00pm :  Jennifer Osner Antique Textiles
4:00pm : Gallery Night setup, Helper set-up  (All)
4:30 – 5:30pm : Conference Registration
6:00 – 9:00pm : Gallery Night in Crystal Ballroom (All)
Friday July 19th
7.30am – 9:00am : Breakfast (All)
9:00am – late : Gallery Doll, Critique Doll and Challenge Doll Exhibition (All)
9:00am- Noon : Photographer Lloyd Wilson, Jennifer Osner Antique Textiles room, Helpers (All)
Programs:
9:00 – 10:00am :  Toy Designer – Donna Moore   (All)
10:00 – 11:00am : Twenties Fashion with Historic References – Marlaine Verhelst    (All)
11:00 – 12:00pm : Visiting Artist 10×12, Shelley Thornton (All)
12:30pm   Leave for Luncheon at Diana Rew's
1:00- 2:30pm : Luncheon at the Home of NIADA Patron Diana Rew (All)
3:00 – 6:00pm  Photographer, Jennifer Osner Antique Textiles, Helpers
Explore Kansas City points of interest
Dinner on your own
6:30pm: Keynote speaker – van craig (All)
'Fireside Chat' following
Saturday July 20th
7.30 – 9:00am : Breakfast (All)
9:00am -12noon :  Mini-Masters
9:00am- 5:00pm : Photographer Lloyd Wilson (All)
9:00am – 5:00pm : Jennifer Osner Antique textiles room open (All)
9:00am – 4:00pm : Helper room open (All)
12:00 – 1:00pm : Lunch on your own
1:30-3:30pm : Flea market, critiques/challenge doll exhibit
Free time : Explore KC Points of Interest
6:00pm – late : Banquet (All) Helper drawing, Awards presentation
Sunday July 21st
7:30 -9:00am :  Continental Breakfast (All)
9:00am :   Set up for NIADA Artist Exhibition and Sale
10:00am – 4:00pm :  NIADA Artist Exhibition and Sale
4:00pm :   Tear down exhibit
6:00pm :  NIADA Board Meeting
Conference attendees can sign up for a variety of activities, including Critiques and the 10 x 12 program
Visiting Artist Critique
All Visiting Artists are welcome to register for a Visiting Artist Critique. This is a great opportunity to discuss your dollmaking goals, troubleshoot technical issues and develop your work under the guidance of  NIADA Artists. Each Critique will be conducted by two NIADA Artists. The fee for each Critique is $25. You may bring a selection of dolls to be critiqued. You are welcome to suggest a NIADA Artist you would like to critique your work, and we will do our best to meet your request. If we cannot, we will assign you a NIADA Artist most relevant to your dollmaking aspirations.
If you are in the process of applying for NIADA Artist membership you must participate in Visiting Artist Critique as a component of your application process. This Critique is an opportunity to discuss what is required to become an Artist Member.
Register for a Visiting Artist Critique at the top of this page.
Critique Exhibition
All Visiting Artists registered for a Critique are invited to exhibit their dolls at the Critique Exhibition for Conference attendees to view. If you have any questions please contact the Critique Registrar .
Flea Market
The"Flea Market" is open to all conference attendees to purchase all sorts of items often at Bargain prices. You will find fabrics, trims, buttons, and unusual, hand-crafted items that will delight and get those creative juices flowing! Conference attendees can also register to sell items at the flea market, but please note the only Dolls to be on sale at the conference are by NIADA Artists.
Contact the Conference Chairs to register your interest.
Scholarships
NIADA offers two scholarships to visiting Artists to help them to attend the NIADA conference. The Helen Bullard Scholarship recipient is awarded a free Conference registration. The Susanna Oroyan Memorial Scholarship helps to cover extra expenses and/ or pay for a Dollmaking Class of the recipients choice.
Apply for a NIADA Scholarship.

Helpers
NIADA Helpers are donated  dolls and doll-related items created by NIADA Artists or donated by NIADA Patrons, which will be raffled to the registrants. There will be time to peruse the items and purchase tickets during the course of each day. Occasionally new items arrive after the Helper Room has started displaying so be sure to check back often. The Helper winners will be drawn at the Saturday night banquet.
Visiting Artists 10 x 12 Program
Twelve Visiting Artists will have an opportunity to introduce their dolls to all NIADA Conference attendees in a special program in which each participant will show ten projected images of their work.
Each photo will be allotted twenty seconds for artists to add their description or commentary. If you are a Visiting Artist registering for the NIADA Conference, this is your chance to introduce your work to NIADA Artists and Patrons.
To register your interest, contact Shelley Thornton.
2019 Challenge Doll
"Prohibition Era 1920-1933"
The Hotel Phillips was the stepping-off point for selecting the 'Prohibition Era', 1920-1933, for our Challenge Doll.  Built in 1931, it hearkens us back to a period of history in the United States, following WWI and prior to the Great Depression, when booze flowed freely, music played through the night and dance styles rapidly gained popularity.  With the advent of speakeasies, owners and bartenders suddenly had a new clientele: women. Bars had always been places of community, but women had mostly been relegated to drinking at home. The social appeal of speakeasies pulled them into new and vibrant communal spaces.
Alongside the new customers came bar stools, live jazz and a new breed of cocktails geared toward a broader audience, many revived from the pre-Prohibition era: sours like the Sidecar and the Bee's Knees, frothy drinks like the gin fizz, strong and stirred drinks like the Manhattan and the martini.
A challenge doll is an artistic exploration of how each individual interprets and represents the theme. This theme may be well defined or merely a phrase. Each participant renders their work, in this case, honoring the doll making tradition, and submits it for exhibition at the Conference. Submitted dolls should be all original designs and completely fabricated by the artist using any material.
Dolls must be no larger than 24″ in diameter and must not exceed 30″ in height.
The "Prohibition Era" Challenge dolls will be on display during the conference at a location to be announced.  We look forward to seeing your interpretation in July!
NIADA Souvenir Doll Artists 2019
The 2019 Conference Souvenir will again be made by a variety of NIADA Artists. This year we will be doing something a little different.  Several artists will be creating pins in their signature style for each banquet attendee – (and you will also receive a few other special gifts!)  Additionally, ten of the souvenir artists are creating a small doll which will be gift-wrapped and placed in the center of each table.  Each place setting will have a number preassigned.  With a roll of a pair of gold dice, the winning number will win the centerpiece doll!  The souvenir pin designs and the centerpiece doll designs will remain secret until the banquet. The contributing NIADA Artists for the 2019 Souvenir are: Jo Ellen Trilling, Chris Chomick, Susan Fosnot, Sandra Ogelsby, Joy Calhoon, Pat Lillich, Victoria Rose Martin, Ankie Daanen, Lesley Keeble, Joe MacPhale, Leslie O'Leary, Diane Keeler, Cindee Moyer and Neva Waldt.  We think that you will be pleasantly surprised!
Below are a few of the souvenirs from the 2018 conference in Asilomar,CA.
Photographer: Lloyd Wilson 
Our conference photographer will be available Friday and Saturday. NIADA has commissioned one photo for each NIADA artist. Conference attendees may also schedule a time to have dolls photographed. The fee is $45 per doll, paid directly to the photographer. Sign-up at the Registration Desk.
Guest Vendor: Jennifer Osner

Jennifer Osner will be returning and selling antique & vintage textiles at the conference. Jennifer has  been a textile merchant since 1978. She travels nationwide acquiring and selling, antique ribbon collections, lace, and other textiles.  Her customers include milliners, doll costumers, designers, movie studios, and all types of artists and crafters.
Sign up to the conference Chatline here, and receive updates regarding the conference and dollmaking school.

Events open to the public
NIADA Artists Gallery Night
6 p.m. to 9 p.m., Thursday, July 18th
Hotel Phillips  Crystal Ballroom
106 W 12th Street
Kansas City
Missouri, 64105
http://www.hotelphillips.com/
NIADA Artists Exhibition and Sale

11 a.m. to 4 p.m. Sunday, July 21st
Hotel Phillips Mezzanine
106 W 12th Street Ave
Kansas City
Missouri, 64105
http://www.hotelphillips.com/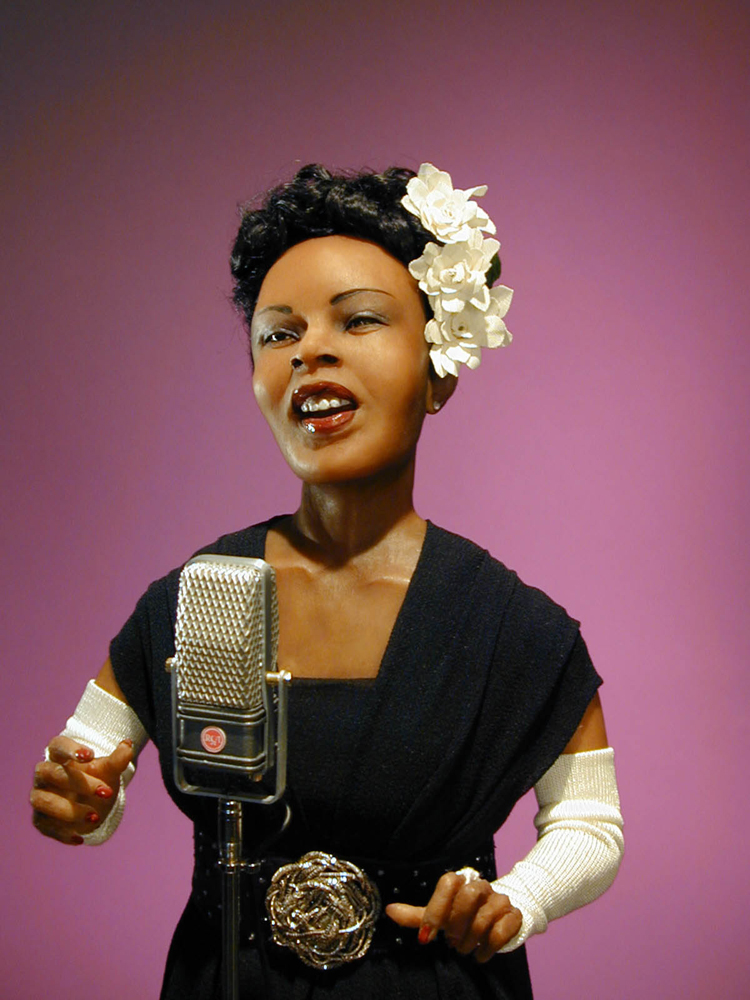 Hotel Phillips
106 W 12th Street,
Kansas City,
Missouri, 64105, USA

Join us in Kansas City.  Registration info will be updated on January 1, 2019
The NIADA negotiated room rate for either single or double is:  $179.00
To book using the NIADA room rate –  click here
If you have any questions or problems regarding hotel reservations, please contact the Conference Co-Chair – Cindee Moyer or registrar Lillian Hopkins