2017 Conference and Dollmaking School
August 28th to August 30th
and August 31st to September 3rd.
Sheraton Nashville Downtown
The NIADA Conference and Dollmaking School is a wonderful opportunity for artists, collectors and everyone interested in the expanding world of doll art to experience the cutting edge of this dynamic art form. The Conference will offer attendees four days of opportunities to meet new people, to inspire and to be inspired.
NIADA 2017
Conference
Thursday, August 31st to Sunday September 3rd.
Conference location: Sheraton Nashville Downtown, 623 Union St, Nashville, TN37219, Tennessee

Register now!
NIADA 2017
Dollmaking School
Monday, August 28th to­ Wednesday, August 30th
Conference location: TBC

Classes are taught this year by NIADA Artists
Connie Smith, Eva Hodinkova, Luella Mosson, Deborah Pope, Shelley Thornton, Susan Scogin and Catherine Mather

Important Information
Conference and Critique Registration Form

When you have paid via paypal you will be automatically sent back to this website to fill out the Conference, Critique and Dollmaking School Registration form, please wait to be sent to the registration form page. If you have not filled out the registration form, you can request the link from the conference registrar Lillian Hopkins.

You must register for the conference in order to undertake a Critique.
If you wish to pay by check, please contact the Conference Registrar Lillian Hopkins.
By registering online you agree to our terms and conditions.
For information regarding the student rate visit  Frequently Asked Questions.
What does my Conference fee cover?

Your Conference registration gives you access to:
Conference Programs / Keynote Presentation / Gallery Night Opening / Demos / Critiques / Flea Market / Banquet Dinner /Conference Souvenir Doll made by NIADA artists
Conference and Dollmaking School Contact Information



Conference Co-Chairs: Connie Smith
Registrar: Lillian Hopkins
Critique Registrar: Leslie Molen
First-Timers Assistance: Mary Ellen Frank
Dollmaking School Class Registrar: Stephanie Blythe
Paypal Liaison: Stephanie Blythe
Conference attendees can sign up for a variety of activities, including Critiques and the 10 x 12 program
Visiting Artist Critique
All Visiting Artists are welcome to register for a Visiting Artist Critique. This is a great opportunity to discuss your dollmaking goals, troubleshoot technical issues and develop your work under the guidance of  NIADA Artists. Each Critique will be conducted by two NIADA Artists. The fee for each Critique is $25. You may bring a selection of dolls to be critiqued. You are welcome to suggest a NIADA Artist you would like to critique your work, and we will do our best to meet your request. If we cannot, we will assign you a NIADA Artist most relevant to your dollmaking aspirations.
Artist Membership  Critique
If you are in the process of applying for NIADA Artist membership you must participate in an Artist Membership Mentor Critique as a component of your application process. This Critique is an opportunity to discuss what is required to become an Artist Member and will be conducted by three NIADA Artists. The fee for the Critique is $25.
Register for your Visiting Artist Critique or Artist Membership Critique at the top of this page.
Critique Exhibition



All Visiting Artists registered for a Critique are invited to exhibit their dolls at the Critique Exhibition for Conference attendees to view. If you have any questions please contact the Critique Registrar .
10 x 12 Program

Twelve Visiting Artists will have an opportunity to introduce their dolls to all NIADA Conference attendees in a special program in which each participant will show ten projected images of their work.
Each photo will be allotted twenty seconds for artists to add their description or commentary. If you are a Visiting Artist registering for the NIADA Conference, this is your chance to introduce your work to NIADA Artists and Patrons.
To register your interest, contact Shelley Thornton
Scholarships

NIADA offers two scholarships to visiting Artists to help them to attend the NIADA conference. The Helen Bullard Scholarship recipient is awarded a free Conference registration. The Susanna Oroyan Memorial Scholarship helps to cover extra expenses and/ or pay for a Dollmaking Class of the recipients choice.
Scholarship applications have  now closed for 2017
Challenge Doll 2017 : Topsy Turvy

This year NIADA returns for the third time in our history to the state of our roots: 53 years have passed since Helen Bullard and her fellow artists met in Ozone, TN and established the National Institute of American Doll Artists to preserve the design and integrity of the artist doll. Did she imagine all those years ago that NIADA would redefine the art of the art doll on the international stage? Or would our global identity turn our founder's world upside-down?
We happen to think she'd be proud of what we've become, but the notion suggests a theme for this year's challenge doll: TOPSY-TURVY. We have certainly grown into a collective that defies most expectations for a group of doll-makers! And this year is already proving to be one of unprecedented change and unforeseen circumstances; why not explore your unexpressed surprise about the state of your world in the form of a doll?
Whether you approach it from a sociopolitical or cultural perspective, or even a more literally figurative one the idea of being Topsy Turvy, and  upended or overturned from expectation is sure to inspire some interesting ideas!
The challenge doll is an artistic exploration of how each individual interprets and represents the chosen theme.  Each participant renders their work, in this case, honoring the dollmaking tradition, and submits it for exhibition at the Conference. Submitted dolls should be all original designs and completely fabricated by the artist using any material.
Dolls must be no larger than 24″ in diameter and must not exceed 30″ in height.
The Challenge dolls will be on display, along with the dolls from the Visiting Artists' Critique, on Saturday afternoon, September 2nd.
Keynote Speaker : Nathan Jurevicius

Thursday
8.30am – noon
Registration
9am
Free Frist Museum admission to NIADA
9am – 11am
Artist Meeting (NIADA Artists)
11am – 1pm
Patron Meeting (NIADA Patrons)
Noon – 1pm
Lunch on your own (All)
1pm – 2pm
Transport pedestals to the Nashville Public library and setup Gallery event (All)
2pm – 5pm
NIADA Artists Gallery at the Nashville Public Library (All)
5pm -6pm
Packdown pedestals (All)
6pm – 9pm
Presidents Welcome Dinner at Pinnacle room (All)
7.30pm – 9pm
Future of the Conference meeting and conference attendee maker get-together (All)
Friday
9am – 12.20pm
Helper Raffle available in the Melody Room
9am – 5pm
Photographer – Robert Batey
9am – 10am
Robert Tonner : Making Dolls in a STEM World
10am – 11am
Donna May Robinson : Clowns and other creatures
11am – 12.20pm
Micki Kavich, Larry Blount and Connie Smith: NIADA's Tennessee roots and offshoots
12.20pm – 2pm
Lunch on your own
12.20 – 2pm
Artists and Patrons Lunch (NIADA Artists and Patrons)
2pm – 6pm
Helper Raffle available in the Melody Room
2pm – 3pm
Shelley Thornton : 10 x 10 Artists
3pm – 4pm
Leslie Molen : Story Hats
4pm – 5pm
Tanya Marriott :Designing Eco-fiction dolls
5pm – 6pm
Eva Hodinkova :Czech Puppet Magic

6pm – 7pm
Dinner on your own
7pm – 9pm
Keynote Speaker
Nathan Jurevicius
Saturday
9am – 12.30
Helper Raffle available in the Melody Room
9am- 5pm
Photographer – Robert Batey
9am- 5pm
Jennifer Osner – Antique and vintage textile sale.
9am – 10.15am
Artists Flea Market (All)
10.30am – 12.30pm
Artists Demos (All)
12.30pm – 2pm
Lunch on your own
2pm – 5.30
Helper Raffle available in the Melody Room
2pm – 4.30pm
Visiting Artist Critiques
4.30pm – 5.30pm
Exhibtion of Critique Dolls and the Challenge Doll.
7pm- 10pm
Banquet and Souvenir doll Gifting.
Sunday
 10am – 4pm
Artists Exhibiton and Sale

10am
Admission Patrons (NIADA Patrons)
10.30am
Conference Attendees (Visiting Artists)
11am
Public Entry
10am – 4pm
Jennifer Osner: Antique and Vintage textile sale (All)

5.30pm – 7pm
NIADA Board Meeting (NIADA Board)
6pm
Dinner on your own
8pm
Meet in the hotel bar for drinks.
NIADA Souvenir Doll Artists 2017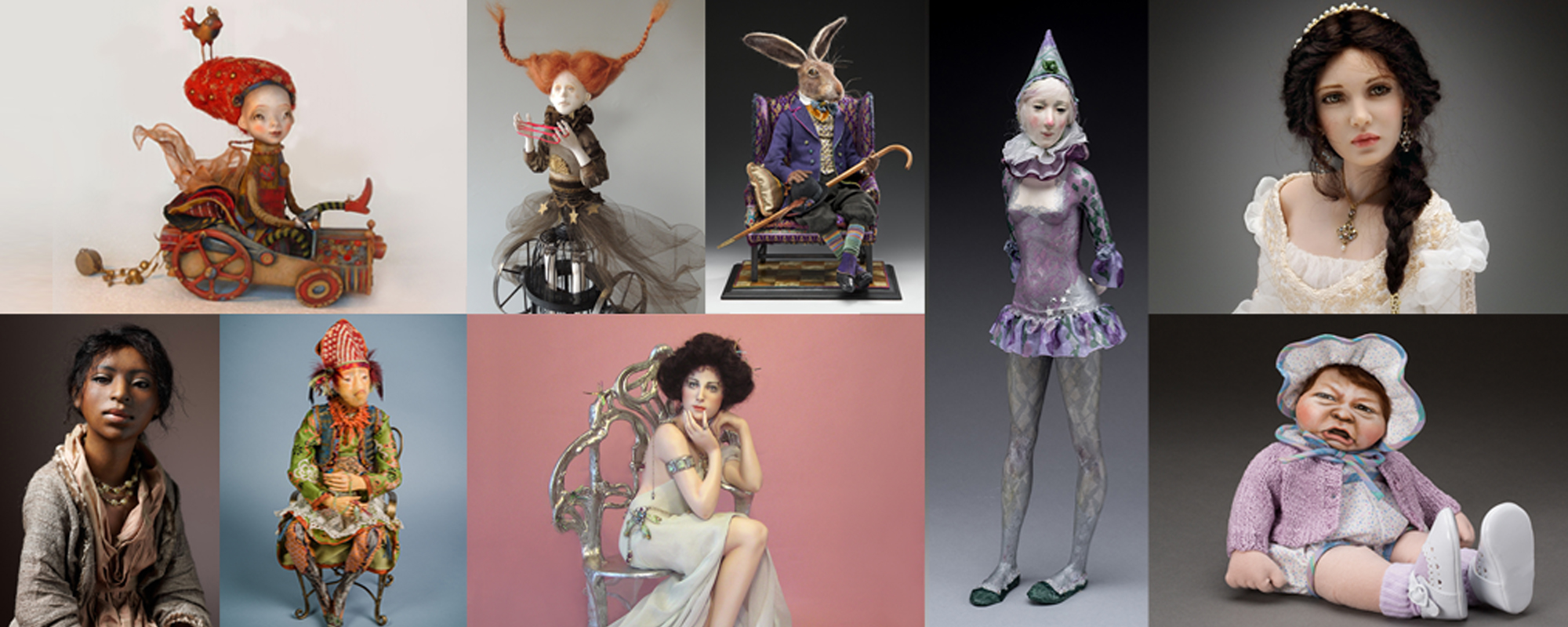 The 2017 Conference will continue to have dolls designed by multiple artists. We have invited 9 NIADA Artists to take part. The souvenir dolls designs will remain secret until the conference, and will be distributed at the banquet to all conference attendees. The contributing NIADA Artists are Catherine Mather, Anna Zueva, Theresa May, Marlaine Verhelst, Luella Mossom, Tatiana Baeva, Diane Keeler, Deborah Pope and Donna May Robinson. Check out the Doll work of the contributing Artists above.
Sign up to the conference Chatline here, and receive updates regarding the conference and dollmaking school.

Events open to the public
NIADA Artists Gallery Night
The National Institute of American Doll Artists Gallery Show presents a collection of the latest dolls made by Artist members of the National Institute of American Doll Artists.
This event is open to the public from 2 p.m. to 5 p.m.
Thursday, August 31

The Nashville Public Library
3rd Floor, Commons Room
615 Church St, Nashville
TN37219, Tennessee
NIADA Artists Exhibition and Sale

The National Institute of American Doll Artists Exhibition and Sale is a wonderful opportunity to come and meet NIADA Artists and view and purchase new work.
This event is open to the public from 11 a.m. to 4 a.m.
Sunday, September 3

Sheraton Nashville Downtown
The Davidson Room
623 Union St, Nashville
TN37219, Tennessee
Conference Venue and Accommodation